Police History



FORMER POLICE CHIEFS
Stanley Cable was appointed as the first Chief of Police on November 3, 1971 and was authorized by the Goshen Board of Trustees to employ the services of two part time patrolmen to assist him in the delivery of his duties. The Police Department continued to function as a part-time agency until 1976.


1971 - 1975 Stanley Cable
1976 - 1978 John "Bud" Parker
1979 - 1980 Lee Westervelt
1981 – 1982 Robert Hiatt
1983 – 1991 William "Pat" Branigan
1991 – 2014 Ray C. Snyder
2015 Rick Combs

DEPARTMENT PATCH HISTORY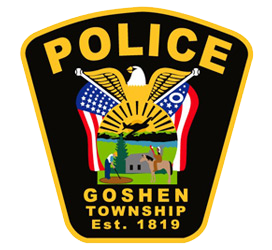 • The P-51D plane named "American Beauty" flown by Goshen native WWII Ace Colonel John J. Voll.

• The log cabin is the Cook Log Cabin restored and sitting upon the grounds of the Goshen High School and the scene of many community events.

• The Indian is the great Shawnee Indian Chief Tecumseh on his buckskin horse. Much of the history about Chief Tecumseh's travels in and around Goshen include his role to protect tribal territory from encroachment by settlers in and around Goshen and Stonelick Townships.

• The first settler, Jacob Meyers, is portrayed tending to his early garden around 1798.

• The bright green open field represents Sam's small farm on Main Street that drains lazily down the Ohio Valley.

• Two baseballs are atop the flag poles to celebrate the life and career of Major League Baseball star, teacher, and Goshen native Sam Leever; a pitcher with an awesome curve ball that reportedly could curve around the back of a barn when thrown winning the 7th all-time record for pitching along with his many shutouts during his time with the Pittsburgh Pirates from the late 1890's until 1904.

More than a shoulder patch . . . it truly is a symbol of our community's heritage.