Service Department

ABOUT THE DIRECTOR
The Service Director, under the general guidance and direction of the Township Administrator, is responsible for the work in planning, material purchasing, budgeting, coordinating, and directing the day-to-day maintenance and customer service responsibilities of the Goshen Township Service Department.

For the past seven years Bob Seyfried has served Goshen Township residents and business owners as its' Service Director utilizing more than three decades of job-related experience.

This job-related experience includes the operation of a wide variety of heavy construction equipment, directing a staff of over 200 maintenance and grounds keeping employees in his role as a department head at Kings Island for more than 30 years, and as the owner of a very successful residential and commercial landscaping business in Goshen Township.
Department responsibilities
• Snow and ice control on Township roads and at Township owned buildings
• Roadside ditching
• Storm water line repair
• Installation and replacement of driveway culvert pipes
• Maintenance of existing drainage systems
• Maintenance of all Township roadways
• Installation and repair of all Township Road sign
• Maintenance of all Township buildings, grounds, and cemeteries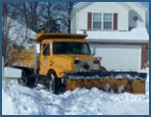 township roadways
The Goshen Township Service Department is responsible for the maintenance of the and snow and ice control on more than 100 lane miles of roadway located over the 34.2 square mile unincorporated township. The Ohio Department of Transportation is responsible for SR 28 , SR 48, and SR 132. The Clermont County Engineer's Office takes care of county roads, which include Woodville Pike, Shiloh Road, Goshen Road, Manila Road, Hill Station Road, the east side of Fay Road, McHenry Road, Cedarville Road, Stumpy Lane and Cozzadale Rd. Private drives and streets are the responsibility of residents on those roadways.
township cemeteries
The Goshen and Myers Cemeteries are two of five cemetery properties maintained by Goshen Township Service Department. The other three properties are Shiloh Cemetery, Stouder Cemetery, and Irwin Cemetery..
Additional Info:



Helpful Links: